Bratislava, public lecture, Lama Ole Nydahl
20.03.2014 (Thursday) 19:00
what: public lecture - Buddhism in the West
where: Bratislava
fee: 10 € | students, pensioners: 7 €
info:
+421 903 791 479 (Lenka)
Additional information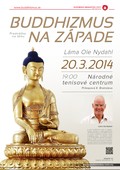 The lecture will be held in English with consequent translation into Slovak language.
After the lecture there will be space for your questions and in case you are interested there is a possibility to take part in meditation guided by Lama Ole.
Accommodation after the lecture
Those who need to stay overnight after the lecture can register for a sleeping hall near the place of venue. The price is 5€/night. Please bring your own mat and sleeping bag. Due to the organizational reasons there will be no possibility to stay in the buddhist center.
Please, REGISTER HERE.
Other accommodation options in

hotels/hostels

:
Organizators contacts: