SLOVENSKÁ
verzia tejto stránky |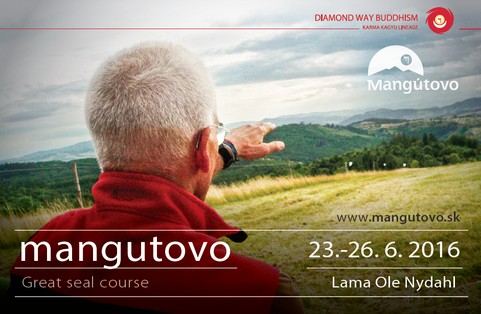 Program
23/6

(Thursday)

10:00

Diamond Way teachers - meditation session

15:00

Diamond Way teachers - meditation session

20:00

Diamond Way teachers - lecture, Q&A

24/6

(Friday)

10:00

Diamond Way teachers - meditation session

15:00

Diamond Way teachers - lecture, Q&A

20:00

Lama Ole Nydahl

- lecture

25/6

(Saturday)

10:00

buddhist teachers - explanations on Foundational Practices Ngöndro and meditation

15:00

Lama Ole Nydahl

- lecture

20:00

Diamond Way teachers - lecture, Q&A

26/6

(Sunday)

11:00

Lama Ole Nydahl

- lecture
The program is a subject to change.
All lectures will be held in English with translation to Slovak and other languages. Please bring your own FM radio receiver for translation to other languages.
Accommodation
Food
We will be able to provide cooked food (meat/vegetarian) only for participants,

who registered online.

Those, who will register and pay just on the spot can get food 24h later. There will be also cooked food available at the bar.
Prices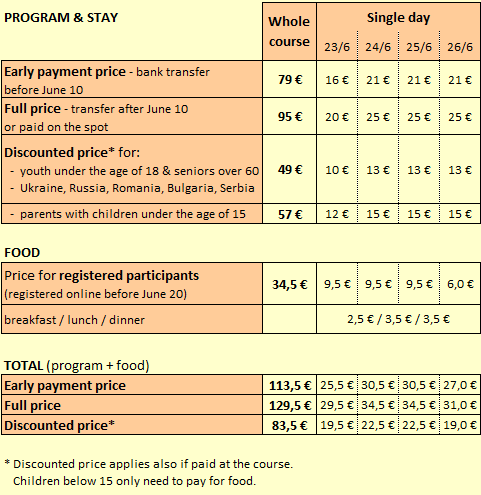 REGISTRATION
PLEASE REGISTER VIA ONLINE FORM. The online registration will be open until

JUNE 20, 2016

. Deadline for payments for the discounted price is

JUNE 10, 2016

.
If you want to come and help before and after the course, please fill in also PRECOURSE REGISTRATION.
In case of further questions, please contact registration@buddhizmus.sk.
Parking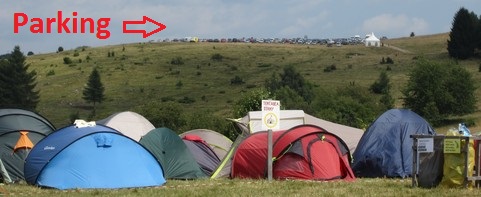 Due to expected many visitors, there will be a big parking lot on a meadow approximately 5-10 minutes by walk from the course site. There will be a shuttle helping you to trasport your luggage.

Please be aware this time we cannot provide a place for your caravan directly at the course site. You can park your caravan at the parking mentioned above. There is no possibility to hook up your caravan to an electricity supply.
General Information

The conditions are similar to any other "yogi summer course", including sleeping in your own tents and cold showers. Please bring your own tent, meditation cushion, sleeping bag, mat and torch light.
To be prepared for bad weather, don't forget to bring your own raincoat and rubber boots, it won't be possible to buy it at the course!

We kindly ask you NOT to bring any pet, alcohol or drugs.

Don't make an open fire or use your own gas cookers to avoid the risk of fire (hot water will be provided during the course).
Babysitting
More information will be provided later.
Previous Summer Courses in Mangútovo
Location