How to get to Mangútovo
Maps
Map of Slovakia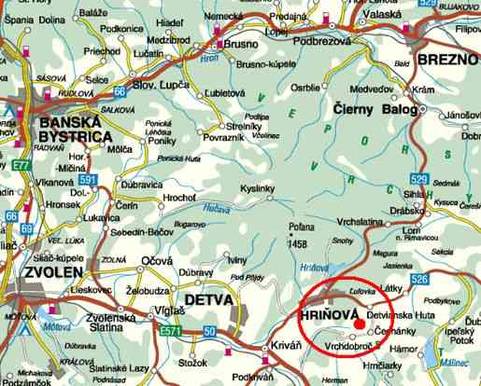 Detailed map
GPS position
Mangútovo:

N48.561563'

|

E19.556158'
Nearest bigger cities from where you can get to Mangútovo
Bratislava
Vienna/Wien
Budapest
By car
from

Bratislava

take the route to Nitra, next Žiar nad Hronom, Zvolen, then straight to Lučenec, passing Detva, passing Kriváň and continue to Hriňová
from

Košice

take the route to Rožňava, Rimavská Sobota, Lučenec, passing Kriváň and continue to Hriňová
from

Žilina

take the route to Martin, Banská Bystrica, Zvolen, then straight to Lučenec, passing Detva, passing Kriváň and continue to Hriňová
Notice for the motorbike owners - it may be difficult to get to our land by normal motorbike, especially when the road is muddy.
Navigation for cars
Google navigation | Photo-navigation
By public transport
Check out the site www.cp.sk to see what busses and/or trains to take, to get from your location to Hriňová. The best route is to take a bus to Zvolen and there you change to a bus going to Hriňová (Get off at "Hriňová - stred" bus stop). Those, who dare can follow navigation for walk. If you need a shuttle from the bus station of from the parking at the Ski Center Košútka, call us.